xorg-edit v08.08.06
| | |
| --- | --- |
| Languages | C++, wxWidgets |
| Description | GUI to edit XServer-file xorg.conf easily |
| Date | 13.03.2006 - 06.08.2008 (Changelog) |
| Licence | GPLv3 |
| Download | SourceForge |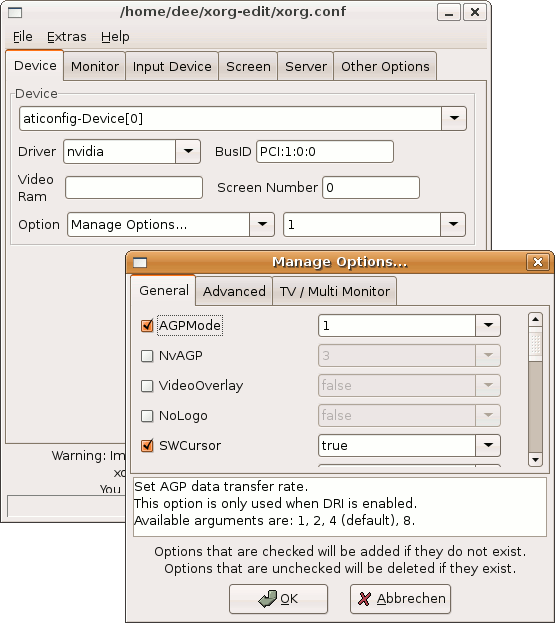 Because I found it very complex to manually edit the X-Server config file (xorg.conf in Ubuntu) to add my monitor refresh rates and some users from the German forum ubuntuusers.de had the same issues I wanted to build a GUI so that editing this file becomes much easier.
For programming I use wxWidgets, so it is necessary to install the package libwxgtk2.6-0 or libwxgtk2.8-0 if you want to use xorg-edit. Editing or rather saving /etc/X11/xorg.conf needs root authorization, this means you must type sudo ./xorg-edit.
For compiling the sources you need to have libwxgtk2.6-dev and wx2.6-headers or libwxgtk2.8-dev and wx2.8-headers installed.
If you have problems, question or wishes or want to report a bug feel free to mail me!
---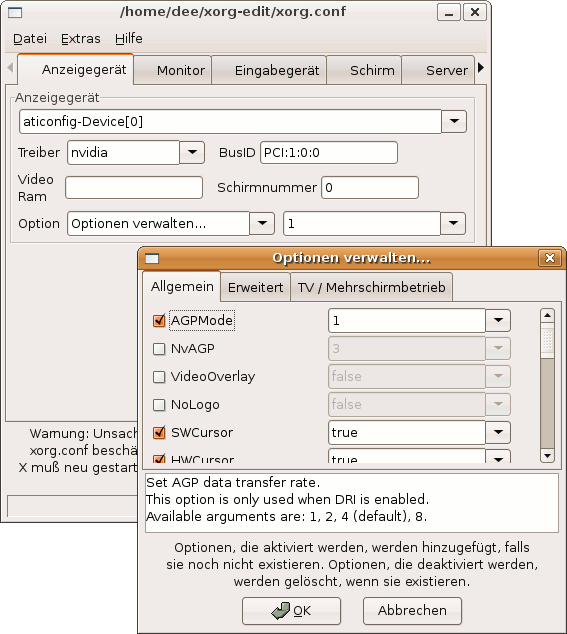 Da ich es selbst ziemlich umständlich finde z.B. bei der Konfiguration der Monitor-Bildwiederholraten die X-Server-Datei (xorg.conf unter Ubuntu) immer mit der Hand zu editieren und zusätzlich auch im Forum von ubuntuusers.de danach gefragt wurde, wollte ich eine GUI programmieren, die die Eingabe der Daten etwas leichter macht und die Integrität der X-Server-Datei gewährleistet.
Für die Programmierung wurde wxWidgets benutzt, daher muss das Paket libwxgtk2.6-0 oder libwxgtk2.8-0 installiert sein, wenn man xorg-edit nutzen möchte. Um die /etc/X11/xorg.conf editieren bzw. speichern zu können, muss das Programm mit root-Rechten gestartet werden, d.h. sudo ./xorg-edit.
Wer den Quellcode selbst kompilieren möchte, benötigt die Pakete libwxgtk2.6-dev und wx2.6-headers oder libwxgtk2.8-dev und wx2.8-headers.
Bei Fragen, Fehlern und Anregungen einfach an mich wenden!